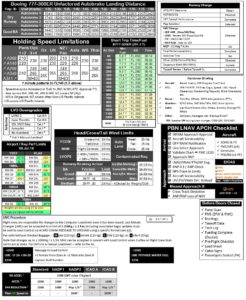 Most pilots at some point develop a set of crib notes on the aircraft and operation they fly. For some this is quick and dirty, it essentially gets them through line training and these home grown notes are often then abandoned.
Current Version : 06.Jul.2012 and can be downloaded as a PDF here.
For many pilots they are somewhat more extensive. For a few they become a complete re-write of all the manuals, including the company specific ones, and become a tome (or tomb) of information. In a very few instances – they become a source of reference for others and are sold as such. A friend of mine at Emirates has such a document for the Ek 777 operation. The last time I looked – it was 23.7 megabytes and 250 PDF pages that he now sells to other pilots. And it's worth it.
I have developed various reference pieces in my time as well. Some continue. I have a database used to test myself with Questions and Answers. In that database are hundreds of questions on the 777, the A310-300/600 and the Fairchild Metro 23. There are also questions on?777 Recurrent Phases, A300/A310 Airbus Cbt Questions, Boeing 777 CBT Questions, Breast Feeding Support Group, Pilot Training From Engineering Dept, Cold Weather Operations, Drug And Alcohol Management, Dangerous Goods, Dangerous Goods 2010, Boeing 777 Fctm, Flash Card Questions, Flight Operations Manual, Airport ILS PRM Procedures, Boeing 777 Refresher Points, Reduced Vertical Separation Minima B777, Sep 2010 Exam, and Upgrade Questions. In short – anytime I come across an exam resource I try to find time to add it to the database. In the past I've sold it too.
Another resource that has survived is my clipboard document. It sits (surprise, surprise) inside my clipboard. Various things appear on and off it. Some stay from issue to issue, some are updated for accuracy and content, some things disappear to be replaced by something else.
In the past people have asked me for a copy and I've obliged, with the usual protestations of accuracy, legitimacy, relevancy and clarification that I am all care and no responsibility. As a Trainer, Checker, Training Manager and now a Standards Manager, the only thing that worries me more than seeing someone with a copy of my work (that's outside the sphere of company documentation, much of which IS my work) – is seeing someone with an out of date copy. Hence this post and why you can find the latest copy of my clipboard document here.
Clipboard Reference
Here's what's on my clipboard document, how I made it, and why.
Boeing 777-300ER Unfactored Autobrake Landing Distance
I wanted to develop an appreciation of the effectiveness or 777 braking and the kind of landing distances I could expect across the range of airports we used to operate to at Emirates. I started with this table, which turns an approach reference speed as provided by the FMC and converts it into distance based on Surface Conditions (Dry or Wet with Good Braking Action) and the selected Autobrake.