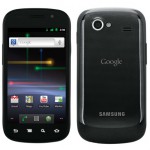 So Marty comes to me recently and says he needs a new phone. No longer satisfied with his relatively new Nokia e71 (Hey Nokia, come on out of the 90's, I'm sorry – but Symbian is dead) he wanted my recommendation for a smartphone.
Naturally my recommendation was – "Buy Apple – that would be the iPhone 4" – as is always my recommendation when I have no interest in providing after sales support for a computer product (which is what a smart phone is) that I didn't sell. I've been advising people for years to buy Mac. When it breaks or they get a virus, or can't get it to work (and yes, that does happen, even on a Mac)  – what do I know, I'm a PC-Guy, I can't help you.
Of course Marty didn't fall for that and instead bought … a Samsung Nexus S, the exact same phone I have. Boy, didn't that backfire.
So now of course he's asked me to recommend him software for his phone. To top THAT off – he suggested I make it an article on Internoetics. Sure, why not. That will take at least 4 times as long as jotting down notes randomly in an e-mail. Now I'll have to actually THINK about it.
Disclaimer : Sorry – you were hoping for a little more altruism in a tech writer were you? Well in that case – go read someone who doesn't work at least one other (sometimes it feels like two) full time jobs. So that's why you won't find this article rife with gradings or competitive products, or links to the developer's web site. You'll work it out. Just search the Market. I will say that I actually use these apps, have done so for a while, and in most cases have come to them through a process of elimination, in several cases paying for the app when I didn't have to, because they're that good.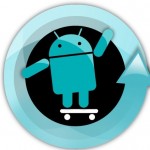 Operating System – Cyanogen
This may seem like a weired place to start – but that's what Android is all about. Absolute freedom of choice. Want a phone with a slide out keyboard? Sure thing. Want something with the mother of all screens (Dell Streak, you were a ridiculous choice for me, I couldn't even fit you in my pocket) – we have that. Want something with lots of manufacturer's software plastered all over it – we have that in spades as well. Damn you HTC.
Current Google Android is 2.3.2 the "Gingerbread" version, the last release prior to the tablet 3.x "Honeycomb" release. This should do almost all users fine. But if you want something better (and it is better) the have a look at Cyanogen.
Because Android is open source and therefore the source code is available – the crew over at XDA decided a while ago to tweak the original code and add some features of their own. Once thing lead to another and now there's a complete alternative operating system (actually several of them) sitting out there for your phone. It's replete with settings and features over and above the already flexible Gingerbread.
I was running Cyanogen 6 and then 7 beta on my Nexus One and if I could figure out how to "Root" my Nexus S I'd be running it now. That's one disadvantage of alternative operating systems – you need to have root access to your phone first, which should be easy … but …
If you are going to evaluate and use a different ROM (not just Cyanogen – there are quite a few out there) then ROM Manager is for you. Once you have root access it will allow you to swap in and out of different operating systems on your phone – it'll even find them for you. Note that an operating system release is particular to a phone so if you have for example a HTC Insult you'll need the Cyanogen build for that particular phone.
ROM Manager also handles entire ROM (including user data) backups to SD which is nice – and it does it from the boot manager so it's a 99.9% perfect backup – based on the assumption that nothing is ever 100% 🙂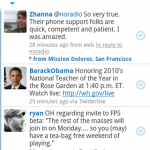 Twitter for Android
I don't use this application, but it comes with Gingerbread now, and you need to keep it up to date. It does the integration of your twitter followee's (people you follow) with your address book, which I find handy. It's ok as a basic twitter client, but I prefer TweetDeck.
But thanks to Twitter follower syncing on my Android phone – and Marty's METAR twitter feeds (eg: www.twitter.com/YMMLMETAR) – my contact list now has the most current METAR for each airport I operate to.
If you're a Dropbox user (why not?) then then this android client from Dropbox themselves does the job nicely. There are some things that would be nice if it could do like automatic sync of nominated folders, but as far as it goes, the official Dropbox Android app lets you access your dropbox files while you're on the go, which is what you need.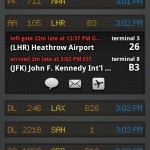 FlightBoard, by Mobiata
Flight board is a really simple concept. Pick an airport, choose departures or arrivals, see the equivalent flight board. As someone who travels all the time this really simple app is excellent and serves me well.
Yes you can Facebook or Twitter about your flight and all of that shite, yes you can shoot a flight over to FlightTrack (slightly more useful). You can access delay data etc. The point is, at any stage during your travel journey, you can look and see if the flight is delayed, if there's a gate assigned, if flights just before or after yours have been cancelled.
The inbuilt android web browser is ok as far as it goes – but Dolphin goes a lot further. For a while I was using the executive-on-steroids Dolphin HD version with it's gestures, sync'd bookmarks, library of plugins that could do everything from snapping pictures of web pages to converting them to PDF documents on the fly. Eventually I decided simple and quick was what I needed on my phone – which is NOT a pc, and shouldn't be treated as such – and defaulted to Dolphin Mini. It does flash on demand, stores a few favorites on a home screen, basic gestures and a few other bits and bobs. If you want the full featured browser experience on your android phone – or your android tablet – I'd recommend Dolphin HD. Otherwise – Dolphin Mini is good.
Skype pretty much sucks. That goes for the PC experience as well. I've used a dozen different VOIP solutions over the past 12 years or so, all mostly as a means of avoiding Skype – to make cheap calls also – but to avoid Skype.
Whether it be the bloatware that Skype is on your machine, the restrictive private protocol that offends my open source sensibility, or just the fact that when you agree to install Skype you agree to potentially become a Skype supernode, routing calls to and from people you've never heard of, chewing up your bandwidth, Skype pisses me off.
But there are so many people on Skype, we're now so far beyond the point where I can choose not to use it.
Skype on Android is in it's early days and it shows. Still no Video. It took them long enough (ages after the iPhone) to get Skype on Android, so I shouldn't be surprised. The damn app hangs around in memory, it's difficult to get rid of it once you stop using it, and it's the five stars all hands down winning app most likely to force me to reboot my phone. I played with Fring or a while, but then Skype stopped Fring's ability to access your Skype contacts, so back to square one. Fring of course now does video calls, but what use is that when all your friends are on Skype? Damn it.
I follow a lot of RSS feeds. Whether it be podcasts or news feeds, I managed almost all of them through Google Reader and it was a bitter disappointment when I found Google didn't have one for Android. I went through quite a few of them (honorable mention for FeedR and NewsRoom) but settled on NewsRob. It integrates exceedingly well with Google Reader (which was my primary requirement) as well as allowing me to subscribe to other feeds separately. It has it's own built in browser when you just want to look at the site version of the rss stream, including flash integration; it includes image snapshot in the story summary page where available – and if Marty would turn it on at Flight.Org, allows you to download both the feed and web version for offline reading – very important to me since I use the rss feeds mostly when I don't have wifi access. Maybe now Marty has a decent phone …
You won't be using your new shiny smartphone for very long when you come to realise your battery life is crap. Gone are the days when you charge your phone every couple of days and when the battery is starting to look low you know you have until at least that night before you have to charge it.
Between these lovely big bright screens, 'N' wifi, 3g connectivity, GPS, Bluetooth, etc – you need a battery bigger than the phone itself to get a decent life out of it. Just one of the reasons I'm Android is because I can carry a spare battery and throw it in if I need to – try that on an iPhone.
Juice Defender give you Time of Day /  Location / Data throughput / Application aware control of the high consumers of power such as screen/wifi/3g as well as controlling application access and sync. Let me explain.
I'm in the hotel foyer in LA. I pull out my phone and turn it on. Because I've been there before, JD turns on the wifi and logs onto the hotel network. Depending on how long since the last one, Google Sync is started – checking mail, twitter, facebook, etc. Before this completes, I turn my phone off. In my pocket, as the data finishes downloading and the data throughput reduces below a nominated threshold, JD turns off the Wifi.
I leave the hotel. Every 15 minutes or so (you choose), JD turns on the 3g and another sync is activated. JD turns it off again shortly afterwards.
I approach "It's a Grind" the coffee shop I frequent which has free wifi. JD knows where I am (cell towers) and turns on the wifi as I enter the shop. It attempts to log on but the Cafe has changed their password (again). The lack of data throughput is a trigger and JD turns off the Wifi again.
Juice Defender is indeed Ultimate.
Edward Kim has made a fortune out of this App and it's easy to see why. As someone who arrives back from a week away in Sydney/Los Angeles to a large staff car park with no markings whatsoever (goddam I hate Melbourne Airport non-Management) – remembering with my fatigue addled brain where I parked my car is a real hassle.
This little gem lets me press a button when I park; then when I return, I run it again and it leads me to my car. The sonar mode (it "boops" faster and faster as I draw closer) is a little kitch, but you can turn it off.
There's lots of other tricksy bits built in but essentially it does very well what I need it to do – locate my car.
More to come … Next time SMS and Call replacement Apps, Exchange Mail App and how to fill your phone with music from your computer – wirelessly.