For the last decade or so, I have been working on a document called Boeing 777 Procedures and Techniques. It has it's genesis in what was originally a Common Errors document based on observations of Pilot/Student actions in the Simulator – but most particularly Instructor/Examiner activity in the Brief/Sim/Debrief as well.
If you would like a copy, please email me at ken.pascoe (AT) gmail.com
---
February, 2022
Well, it's been an interesting couple of years …
I've stated in the past that I try and release a copy every year, and while the past 12 months have been "quiet" on the 777 front (to say the least) I figured I might as well try and stay on top of the aircraft anyway. There's not a lot of change to the content (see below). As always there are two versions of the document. One of them is marked "HL" and incorporates highlighted/changed/new content. The second is a pristine version. Both have a change revision section at the end you can head to and click the links to jump to the new/revised content. As I said – I haven't seen the inside of a 777 (or simulator) since mid 2021, so there's not a lot there that's stunningly new as such.
Airfield Lighting Calls : Added a directional element to airfield lighting calls (thanks JR).
Rejected / Balked Landing Procedure : Revised procedures in relation to Balked Landing (Rejected Landing After Touchdown) in line with Boeing's 2020 FCTM Update.
Engine Performance Compromised – Continued Flight : Content reviewing continued flight with an engine that cannot reach rated thrust owing to NNM.
TO2 … Engine Failure … TOGA … Vmc A/G? : Added a technique of running a full thrust solution in an attempt to validate a TO1/TO2 V2 against a full TO V2. Thanks Daniel!
Fire Engine on Ground Checklist : Some background and overview to this new checklist paradigm that is sweeping all Boeing fleets.
Once again – some wonderful questions from the crowd that have kept my head in the game and I've answered as best I can, see the Questions from the Audience section.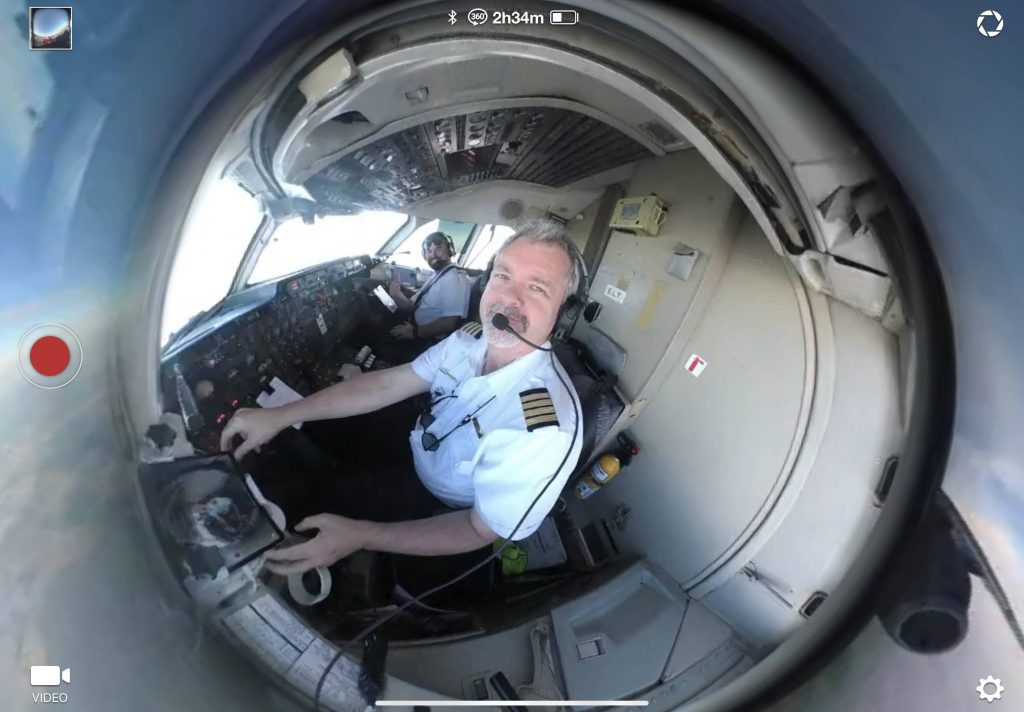 As for me …
In October 2020 I completed a BAe146 Type Rating and headed to Europe to bring back a BAe146-300 to Australia. The trip was interesting, as are some of the photos.
Up until recently I've been flying night freight in the BAe146 up and down the East Coast of Australia. To say this has come as something as a culture shock implies a serious lack of imagination. I've been 20+ years on the 777; Airbus A310/A300 and B744 before that. The BAe146 has required some significant re-working of my brain – there are times when I can feel it buzzing … more photos here. Naturally I spent much of the past year building a set of SOP documentation for the aircraft and some training videos. Couldn't help myself … But now …
I have just commenced a Type Rating on the B737NG as part of taking up a command on an Adelaide base back at Virgin Australia. I counted myself incredibly lucky to have found work on the BAe146/Pionair but that doesn't compare to how lucky I am to find myself in the left seat of the B737 in Virgin. This is my second type rating in 18 months – I plan to kill this one as thoroughly as I can and have started building 737 resources. Anyone out there who can help me with this – it would be much appreciated.
As always … Stay Safe and Happy Landings.
---
February, 2021
Thanks to COVID, I haven't had much time in either the simulator or the aircraft over the past 12 months. After being stood down in March I was made redundant in August along with about 600 pilots and nearly 6000 Virgin Australia staff. I've been incredibly fortunate to find some night freight work in a BAe146 which has forestalled my return to Uni and a career change after 30 years or so. I can't image I'll see the inside of a 777 again or a wide body jet anytime soon. I hope you are doing ok with the aviation devastation that seems to be everywhere, and affecting everyone at wildly different levels.
Changes to the document are encapsulated in a new section at the end, and include the following:
FAQ
Every now and then I get questions on the document and other aspects of 777 operation and training – sometimes I'm even able to answer them. I've started an FAQ (Questions from the Crowd) section in case this information is of use.
Standard Calls
The original Procedures and Techniques document started as "Common Errors" and one of four documents I wrote for the Virgin Australia start up 777 operation. Normal Procedures was eventually incorporated into the FCOM.  EICAS/ECL Procedures is now incorporated into Procedures & Techniques. Standard Calls was conceived and written not just as a compendium of the operation's Standard Calls, but an attempt to document the why behind various standard calls in attempt to increase the understanding of the role Standard Calls play in our operation. I've added this last document into the Procedures and Techniques Document as Chapters – Overview, FMA/ASA, PF, PM, Misc, Ground, Cabin and ATC Comms.
Apart from this there are some minor corrections and a new section on Fuel Leak. I suspect this may well be the last issue of B777 Procedures & Techniques. While the BAe146 has certainly been an interesting challenge, I'm not training on the aircraft, so I don't see much content coming from it anytime soon.
Background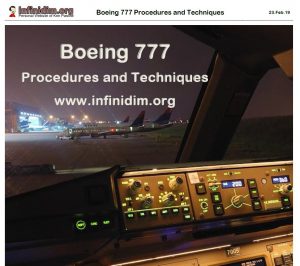 Over the years this document has grown. It's morphed from a document that purely adds to what Boeing say in the FCOM/FCTM (and elsewhere); to a document that explains what Boeing (likely) intend in the FCOM/FCTM, and how that works in the Simulator and in the Aircraft during Airline Operations. It details and explains Procedures; describes Techniques – but more than this it seeks to raise levels of understanding about why we do certain things the way do – or do not do certain things.
While I wrote it for my Airline, our Instructors, our Pilots – much of the content is universally relevant to all 777 operations – and wider. I've been fascinated where it's turned up. At one point I needed some kind of simulation software on my PC to make training material. I discovered PMDG's excellent B777-200/300 product and Rockwell Collins excellent Prepar3D. While wandering around the PMDG B777 forum I was fascinated to discover that most of the avid B777 simmers were referring to a 2011 copy of Procedures and Techniques when trying to add real-airline realism to their hobby.
Meanwhile I've seen the content popup in several Middle Eastern and Asian 777 carriers, as well as a certain Australian 787 operator …
I've spent the past several weeks combing through, reviewing the content and removing identifying references to my own (or any) airline. That said – the essence of this document is my voice to our pilots and instructors, so I hope you find the content speaks to you as well.
I'm always looking for topics of interest to research and write about – the section of on Cold Temperatures Corrections came after a particularly interesting query from Air France. So if you have any suggestions for content, please get in contact.
Infinidim Posts
Many of my posts on Infinidim become content in the Procedures and Techniques Document (and vice versa). Examples of this include:
And many more …
Ken.
---
If you find my content useful and are in a position to do so – I would appreciate a contribution to my PayPal account (ken.pascoe@gmail.com) – If you use the Friends and Family feature in PayPal it reduces the charges to the transfer. Please note that when sending money in this way you are removing any form of purchase protection, which is not relevant to a contribution of this type anyway.
Regards, Ken Pascoe