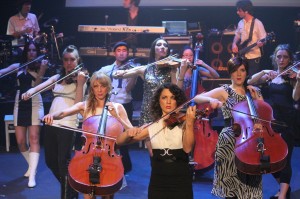 A couple of months ago, Meg and I went into GPAC to see Deep Blue Orchestra. We had the greatest time. Drinks in the foyer lead to the soft chiming announcement that heralded opening doors and we filed into the small intimate theatre. I had only been in that very theatre a few weeks before to see My Friend the Chocolate Cake (for the second time in as many weeks, but that's another story). As I settled in my seat, two rows back I found I had an empty seat next to me and I placed down my camera bag, fairly confident I wouldn't be getting it out. I selected silent on my phone and sat back to await the concert. That's when everything changed.
First of all we were told to turn back on our phones, that photography – even flash photography – was encouraged. We could tweet and SMS and blog the concert, ideally during the concert and were provided with a hash tag. That included requests. The first thing I did was Google "Deep Blue Orchestra"
deepblue is the orchestra unleashed.

The performance is charged with emotion and engagement. It's fun, dynamic, entertaining and rule breaking. There is no conductor, no music stands and no stuffy traditions. You don't have to know when to clap and when to be quiet… you can just enjoy it.

deepblue is part band, part orchestra and part theatre. Whether you like traditional orchestral music or not, you must see deepblue for yourself. The performance is unforgettable and it will change your perception forever.

deepblue marries the traditional string section of the orchestra with a 5th section – digital and electronics. Cameras, big screens and dynamic lighting. It is a rich mix of classical, pop and film music delivered with magnificent sound light, images and stories.

deepblue has broken free from the constraints of a traditional orchestra, it is interactive and audience driven.

It has evolved through audiences wanting to experience the power of the music in a presentation and environment that they have grown to expect from other forms of entertainment. They want the orchestra to be fun again!

Not only is the performance a reinvention, so to is the business model that drives deep blue. Community engagement and audience development replace tradition marketing and advertising as our primary promotional tools. We deliver a range of initiatives to support this such as young blue, thedeepblue Business to Business strategy, the deepblue indoor picnics, a community sponsorship program, workshops and work experience opportunities.

If you'd like to find out more about any of these initiatives, please contact us .

deepblue we never forget who we are performing for.
The music was outstanding as was the showmanship. I took dozens of photos, the best of which can be found here. We really enjoyed the music – classical and contemporary – and watching someone play the cello while 8 foot up on stilts added a new dimension.
Some of my photos were outstanding (that's the camera, not me) and so I contacted Deep Blue with some copies. They were interested in the originals for use on their web site and so we met up in Brisbane.
I'm really looking forward to their next visit to Geelong and will certainly be keeping an eye out when I'm in Sydney or Brisbane …