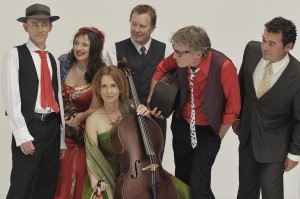 Tonight the kids and I went into Melbourne to the Arts Center Fairfax Studio to see, hear and experience once again My Friend The Chocolate Cake (MFTCC), our favorite ensemble band.
We've been seeing them in concert, buying CD's and t-shirts – and now tea towels! – since the early nineties. This time they're in the middle of their Stopping All Stations Tour to promote their latest album – Fiasco.
This quintessential Melbourne band began in 1989 as an offshoot from the critically acclaimed Not Drowning, Waving (1983-1994) which lay claim to highlights such as the soundtrack for the 1991 film Proof (a Jocelyn Moorhouse film with Hugo Weaving and a very young Russell Crowe – a great movie) and the support band to Peter Gabriel's 1994 Australian tour. My earliest memories of Chocolate Cake are in the Northcote Ampitheatre holding hands with my girlfriend Meg (now my wife), sitting on the grass, listening to David Bridie (keyboard, vocals), Helen Mountfort (cello) and Hope Csutoros (particularly vibrant violin), enjoying the sun and the breeze and the music.
Chocolate Cake have managed 10 albums in 21 years and have a dedicated following across an extraordinary age range. Tonight's concert started at 6pm and was done shortly after 8pm – there were kids and grandparents in the audience, nodding and tapping and singing away to the music. Our seats were one row back from the stage – Helen and Hope were literally 4 meters away, Greg Pattern (drums, cool  black shirt), Dean Addison (seriously funky double bass) and Andrew Richardson (acoustic guitar) not much further, and of course David off to the left, facing us over the top of his piano.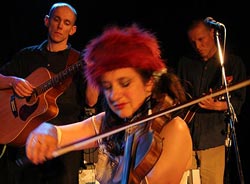 It's quite something to be that close and personal with any ensemble musical performance; with Chocolate Cake – it's quite something else again. On top of the music, the interplay and interaction between the band members as they work the magic that is Chocolate Cake is something to behold. The glances, the smiles, the cues, the acknowledgments – it's all inspired, prompted and timed by the music that's coming forth. It's amazing. As someone who's profession is to work as part of a team in an unscripted yet highly choreographed routine of give and take to achieve a common goal – this was something else yet again. I found that aspect of it absolutely fascinating. To quote Dick from High Fidelity, I wish I was a musician.
Closest to us was Hope with her violin. She is capable of coaxing and cajoling an extraordinary range of tones and emotion from that little instrument. It's one thing to be gifted in your expertise with your instrument – it's quite another to feed into that gift clear enjoyment and delight in the playing of it and the appreciation of the pleasure of the audience around you.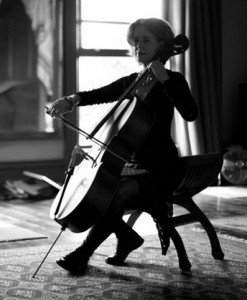 Front and center facing the crowd as she was this evening, Helen Mountfort would seem to be the least likely to be in touch with the group (other than the synchronicity of the rise and fall of the music that binds them all together – along with the audience – in an ensemble cast)  and yet she continually established eye contact with other members of Chocolate Cake, sharing the joy that was apparent to all present in the music and theater they were creating for us. In particular the ongoing exchange of cues and timing, synchronised bowing with Hope next to her; the simple delight at the challenge and joy of working so closely together through the pieces, was wonderful to watch. I've been to Opera and Plays that were far less entertaining, far less engaging than this these 6 musicians, doing what the do so well and clearly enjoying it.
The evening commences with the three originals, David/Helen/Hope and as a piece is played, another musician joins the band until all six are present. The music was a mix of old and new; and although my personal favorite Cello Song for Charlie wasn't played – the moderately more commercial I've got a Plan was – my kids and I used to sing this together as we drove along in our Blue Volvo Station Wagon – you'll have to listen to the song to understand the reference.
The Fairfax Studio at the Arts Center is as small and intimate a venue as one could hope for given what I would estimate to be about 300 seats. While clearly biased by my love for their music and the seats we enjoyed, at $35 a ticket it was a wonderful evening any family with an appreciation for music will enjoy.
Afterwards the band were in the foyer, signing t-shirts and tea-towels for the audience, before heading back in for the second performance which started at 9pm. Since my wife Meg is galavanting through Europe on a well deserved holiday – I got her a tea towel now emblazoned with the signatures of the entire band. This won't be used to clean dishes.
My Friend The Chocolate Cake are touring at the moment and the dates and venues can be found here. They told me this evening they'll be coming to Geelong early next month – I'll be seeing them again (this time with Meg) when they do.