In February 2009 I was part of the team that picked up Virgin Australia's (then V Australia) first Boeing 777-300ER. Having arrived into the airline in June 2008, it had been a long 7 months – very long – but now we were about to get an aeroplane – and fly it. For the benefit of those in the team that couldn't come along (and we took a lot of them with us!) – I blogged the journey on our internal website all those years ago. Ten years later – to the day – these are those blogs.
---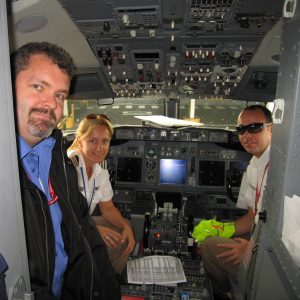 Part Three of the V Australia Boeing 777 Delivery Flight saga comes from the new V Australia office at Sydney Airport. The ride up here on the jumpseat of a Virgin Blue 737 was excellent, extremely welcoming and informative.
Having arrived at Sydney Domestic, I headed across on the T Bus to find our new International Office.
Having been told it was near the Etihad office, I figured we'd be the small office no-one knew of yet, near the large and lavish Etihad Airlines office space.
Nothing could be further from the truth. There are three separate offices spaces (one office space, and crew rooms for Cabin and Flight Deck crew) along with flashy neon signs outside each. For one flight a day (for the moment), it's fabulous. I arrived just in time to catch the ground staff heading out the door with all the display stands, roping, posters and other paraphernalia that's put out before each departure. It's pretty funny really; they build a departure area each time a flight goes out, and tear it down again before taking it back to the office for the next day.
I just managed to catch Phil Warth in Sydney before he headed out to get some things done. Phil has been awesome in the project to date and is an important contact in the Delivery Flight support team for me. This is not his first rodeo – it's the presence of people like Phil in V that give me the confidence that we can pull this off.
Catch you from Auckland.
---
The following is the anthology of associated posts. Note they become active (approximately) 10 years after the original events. So you can wait until they all drop to read them all in sequence – or read them as they come down. Or not!
Ken.
---
If you find my content useful and are in a position to do so – I would appreciate a contribution to my PayPal account (ken.pascoe@gmail.com) – If you use the Friends and Family feature in PayPal it reduces the charges to the transfer. Please note that when sending money in this way you are removing any form of purchase protection, which is not relevant to a contribution of this type anyway.