In February 2009 I was part of the team that picked up Virgin Australia's (then V Australia) first Boeing 777-300ER. Having arrived into the airline in June 2008, it had been a long 7 months – very long – but now we were about to get an aeroplane – and fly it. For the benefit of those in the team that couldn't come along (and we took a lot of them with us!) – I blogged the journey on our internal website all those years ago. Ten years later – to the day – these are those blogs.
---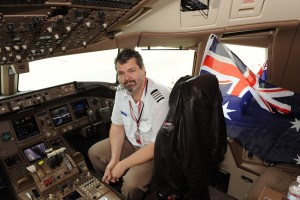 My name is Ken Pascoe and I'm the fortunate guy who will be one of the Delivery Captains for V Australia's (Virgin Blue's Long Haul Airline, later to be part of Virgin Australia International) first Boeing 777-300ER next week from Seattle to Los Angeles and then the big one, LAX to Sydney.
I've decided to blog the trip, mostly for the benefit of the other hard working deserving staff at V Australia who aren't fortunate enough to be part of this experience.
I've been with V for 7 months now, training and checking pilots in the simulator, designing and documenting lesson content and Standard Operating Procedures, providing decent coffee and cake at the sim center (thanks to my wife Meg), and everything in between.
With me on this flight will be Captains Dave Kienzle, Paul Halpin, and Kevin Beard. All of us will be making our own way across to Seattle. What follows is a series of blogs that detail this journey from my home to the conclusion in Sydney. I hope you enjoy reading them at least part as much as I did experiencing them!
---
Well, it's 3:30 am and the taxi is due in ten to pick me up and take me to the Gull Bus to commence my journey. I'm packed and on a whim have decided to blog this epic as much as I can, just to see how it turns out. I'll try and take some snaps on the way to make it interesting (including for me).
It's going to be a looong day.
0330-0345 : Taxi to the Gull Bus
0400-0515 : Gull Bus to Melbourne Airport
0700-0825 : Virgin Blue Flight to Sydney
1130-1330/1635 : SYD-AKL : Air New Zealand Flight to Auckland
1915-1030 (same day) : AKL-LAX : Air New Zealand Flight to Los Angeles
1330-1430 : LAX-SEA : Air Alaska flight to Seattle
With all the time zone (and date line) switches, I haven't looked to see the total travel time. But it looks to me like about 28 hours in and out of Economy. Frabjous Joy.
That said – thanks to the International Date Line, it takes place within a single day – the 2nd of February, 2009. So how bad can it be?
And that's the end of the negativity. I'm headed off to collect Vs first 777 – How fabulous is that? – I wouldn't be anywhere else or anyone else for the world.

---
The following is the anthology of associated posts. Note they become active (approximately) 10 years after the original events. So you can wait until they all drop to read them all in sequence – or read them as they come down. Or not!
Ken.
---
If you find my content useful and are in a position to do so – I would appreciate a contribution to my PayPal account (ken.pascoe@gmail.com) – If you use the Friends and Family feature in PayPal it reduces the charges to the transfer. Please note that when sending money in this way you are removing any form of purchase protection, which is not relevant to a contribution of this type anyway.