Recently Marty asked me about a new smartphone. Despite trying to fob him off with an iPhone – he went for a Nexus S, the same as I have. The next question was inevitable – what apps was I using. The rest is … a series of blogs.
Ok, so the built in gMail app on the Android operating system is awesome. Since Google insist on updating it regularly, there's just no reason whatsoever to look for any alternative. Then there's the built in app for your other POP3, iMap and Exchange mail … therein lies a different story.
So after a short, dissatisfying play with the provided software, I went hunting for something else. I swear it was not my penchant for Dr Who that lead me to settle on K9. It does POP3, iMap, Exchange (although not in a way supported by my company – but that solution is below). It's open source, supports PGP – and most importantly handles multiple e-mail accounts – at last count I'm watching 11 e-mail accounts on my phone – brilliantly – using K9. Push mail, notifications, a breeze. Enjoy.
Touchdown Exchange Mail for Android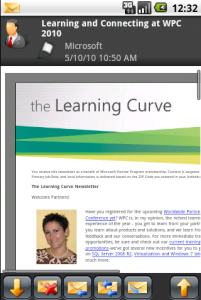 Ok, first a warning. This app is not your typical $4.99 app – you're up for about AUD $20. The trap with this software is that you get 30 days to evaluate it, after which you've found you can't live without it – and you'll have to pay the $20.
If your company allows exchange sync through their firewall, I recommend this app. Although exchange sync is native to android, I couldn't wear the draconian imposition of a security policy on my phone. Sure – secure the app; but the phone? What if I don't want a full password on my phone, changed regularly, the ability for the company to delete stuff off my phone, etc. Stuff that.
Touchdown does email, calendar, tasks, contacts, global address book, etc. Push notification (or not) etc. Very clean interface, updated regularly.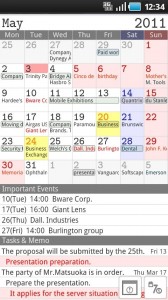 One disappointment when I came to Android was the Calendar App. As a big Google Calendar user, I was expecting quite a lot. Having used Pocket Informant on Windows CE / Crappy Windows Mobile for years (the crappy comment is mandatory) – I was used to a calendar app with awesome functionality. I ran my life on my old (crappy) windows mobile phone using PI – particularly tasks – and to find that Android didn't even handle Google Tasks was a disappointment to say the least.
I hunted around for a calendar app replacement for quite some time. This included waiting for and eventually signing up for the beta of Pocket Informant for Android. Unfortunately PI for Droid never developed into the App I needed (at least not yet – I have every confidence that the crew at PI will get the job done eventually). Still, I need something for calendar/tasks. Along came Jorte.
It's a nice simple app. Enough settings to get the job done, not too complicated. It handles tasks, including local as well as sync'd to Google. Multiple Calendars, Google and otherwise. Nice clear display, widgets are Ok (there are too many of them) and it's snappy enough. I like it. One suggestion would be the ability to switch between multiple calendars (Mine, Meg's, etc) more easily …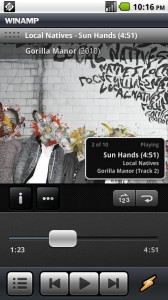 I should firstly point out that I HATE iTunes. There, that's said.
Winamp is a full circle kind of thing for me. I suspect that I was the last person on earth to actually pay for Winamp just before they started distributing free about 10 years ago. They've since gone Pro, but I never forgave them back then for taking my money and then turning around and making Winamp free. I wrote to them and asked if I could have the current Pro version free, but unfortunately not – the company who sells it now is about three companies down the road since back then. Can't hurt to try.
The reason I've come back to Winamp is that the pro version on my desktop – apart from managing about 2 terra-bytes of music – allows me to sync playlists and artists/albums wirelessly through my home network to my android phone. Did I mention it was wireless? The Winamp player on my Nexus works well and is pretty enough. The lock screen took me a while to figure out and letting it take over my headset occasionally gets me in trouble. But it's wireless. Enough said.
Handy Sh!t : (HandyConversions, HandyCurrency, HandyCalc)
Ok, so you've got to have three things on your phone. Something to do Conversions. Something to do Currency. And a Calculator. I managed to find all three from the same source.
I have to say, there's something seriously cool about these apps. Something mesmerizing. I can't quite put my finger on it. The Conversions and Currency work well enough – the currencies update and you can add your own conversions if you're trying to work not just in Bhat, Pounds and Euro's but also Galactic Credits. They're clean and pretty to look and the the interface is easy to work with.
But the calculator is seriously weird. It has some very cool stuff in it – graphing, solving quadratic equations, fractions, Algebra, you name it. I was once a real maths student with a  real calculator at Uni – a HP48 that I loved and knew backwards. When I came to Android I was pleased to be able to install a HP48 emulator for a while – at least until HandyCalc came along. At some point, I'll learn to use it properly. Then watch me go.
Next time I'll look at my Dialler, SMS and Launcher replacements. That'll be a big post.