This evening I was SUPPOSED to be in Singapore. Sitting at Fatties. Eating Baby Kai Lan, Black Pepper Prawns, BBQ Pork and Nuclear Chicken. Instead I'm in Canberra, in a hotel, having just returned from The Street Theatre, where My Friend the Chocolate Cake were in concert.
Singapore Ferry
My airline is nearly at the end of a period where we have been one aircraft short, as four of our five aircraft cycled through heavy maintenance in Auckland. The last of these is headed up to Singapore this weekend, to be painted in the new Virgin Australia paint scheme (tail included). For at least this one aircraft, gone will be the stars on the tail, finally replaced by the (rather plain) Virgin logo. It will be a sad day for some of us really.
I was to take the aircraft (with the Chief Pilot) up to Singapore this weekend. We were guaranteed at least two meals at Fatties (I was hoping to work a lunch or two in there as well). Unfortunately the trip slipped back two days (Damn you Air New Zealand heavy maintenance) – and the revised journey clashed with a course I'm attending next week on Sim Evaluation with SimuLinc. Hence I'm here in Canberra, visiting my son at the ANU, fortunate enough to catch Chocolate Cake in concert while we are here.
Wing Seong Fatties, Ben Coolen Plaza, Singapore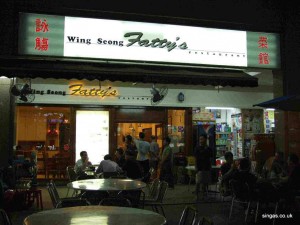 My first visit to Fatties was circa 1996, and I was taken there by my oft-time mentor Alan Cooke, at one time my Training Captain on the Airbus, and long since good friend. We spent almost 12 years on the 777 together – Al as a Captain, myself as a First Officer, then Captain, then Training Captain. The mentor/friend relationship developed a lot – but in many ways is still the same.
I remember sitting down with him for the first time at Fatty's and being surprised when the "waiter" brought Al his dinner before bringing me the Menu.
"How often have you been coming here" I asked.
"Hmm" he said… "About Forty Years." – True story, but I'll save that for another time.
Fatty's of Singapore is something of an institution – certainly amongst aircrew. It seemed to be forever frequented by Locals (good sign of quality) and Air Crew (good sign of cost effectiveness). During my dozen or so years of eating there at least once a month, I saw it move three times. I was fortunate in the early days to meet the original Fatty, who sat outside the restaurant run by his sons, something of an institution himself. Fatty's started in the 40's as a restaurant designed to bring local cuisine to the Americans, who seemed  at the time to have inexhaustible appetites, and inexhaustible wallets. You couldn't eat in those day at Fatties without indulging in Peking Duck, or so I'm told.
By the mid 90's it was (and still is) a popular air crew hangout. Every night, at some time or another, you'll meet Qantas, Emirates and several other airline crews, passing in and out of Fatties. Along with their food, the newbies will be consuming bottles of Tiger Beer (along with the arsenic induced hangover the next morning) and those in the know will be quietly working through their Tsing Tao's.
The Kai Lan is fresh and young, smothered in garlic; the Black Pepper Prawns are enormous, just as fresh and juicy; BBQ pork is a must for anyone laying over from a Middle Eastern base; Nuclear Chicken is an Indonesian Curry dish with morsels of chicken swimming in this yellow/red fire sauce with chilli through it, guaranteed to clear the sinus's as well as fill the stomach. Just on it's own, this last dish justifies at least three beers and a bowl or rice.
Ordering at Fatties is always a fascinating experience. If you're a regular (and I was) then sometimes you didn't get to. If you were lucky you got in early enough if you wanted something different – but otherwise you'd sit, order a drink and the food would arrive. Often out of order. Sometimes the rice would come after you'd finished the main. Sometimes the Spring Rolls would never come. But you take it all in stride as part of the Asian experience.
Sometimes you'd start ordering as a group and then the ordering would peter out and you'd stare expectantly at Skinny (Fatty's Son). He'd say "More Food! More Food!" and you'd head back to the menu to choose more. Other times your ambition was too great, you'd be halfway through what you thought you wanted and Skinny would interrupt "Too Much! Too Much! You Get Fat!" and he's walk away, and you knew your ordering was finished.
Over 14 years I never figured out the billing experience. I could go there on my own, order three dishes (small) with rice and a drink. The price would come to $27 SGD. Or I'd go there as a part of twelve. We'd order as much food as the table would hold, keep ordering beer until we couldn't get up from the table to hit the toilet because we were surrounded by bottles – the bill would come, we'd divide it up and it would come to $26 SGD. I think they made their money not on the margin on the food or beer but because they never invested in any sort of tiller or accounting system and just multiplied the number of guests by some figure in between $25 and $30 and that was good enough.
My Friend the Chocolate Cake
I've written about My Friend The Chocolate Cake before. As always their performance was both polished and fresh. Familiar and invigorating. I'd go again next week – or tomorrow night – in a heart beat.
But man, I'd love some rice and left over nuclear chicken juice …