So Rocket League is a phenomenally successful physics based game that is basically Car Soccer in a variety of Cars that Accelerate, Boost, Handbrake Turn, Jump, have Rocket Boost and have three dimensional Roll, Pitch and Yaw while airborne (including barrel roll). It's a natural next step for a 777 pilot like me. Apart from the game trailer, the Honest Trailer is pretty funny to watch as well.
So it turn out that Rocket League has custom map making features which have been used to great advantage – with some pretty amazing maps. Rocket League on a Pool Table, Water Polo, Table Tennis, the game Portal, Quiddich, and more.
While you can play these maps on your own in Rocket League – Pysonix don't support multiplayer games with custom maps (yet!). But smarter people than me have figured out how to get it to work – so I thought I would document it here as clearly and simply as I can to try and get more people to play with!
How to setup Workshop Maps in Private Matches
First of all = credit to Lethamyr who recorded the first video I found on this topic – you'll find that here.
Note that while some of the steps below contain links to download files from the web – I have created a single download for the current set of files (as of 25SEP19) so you can get all you need with a single download. If you use my single download – you'll still have to
Subscribe to some Workshop Maps in Steam [Step 1]
Unzip the file to a folder on your desktop (or somewhere)
Copy the Workshop Map texture files to your Steam Rocket League Folder [Step 2]
Install Rocket Launcher [Step 3]
Install & Configure Hamachi [Steps 4 & 5]
Install WinPCap if you missed it in [Step 3]
Work on from [Step 7] below.
Files in the Single Download are:
Workshop Textures (05.Jul.17)
Hamachi Install .msi (2.2.0.633)
WinPcap Install 4.1.3
Rocket Launcher 3.4
Step 1 : Download Workshop Maps into Rocket League.
Open Steam
Select COMMUNITY … WORKSHOPS
In the Search Bar, start typing Rocket League (and the select it when it pops up)
Star browsing for maps.
Many maps are intended for personal development, or to provide you with some entertainment while working on your basic skills – which reflects the solo nature of Workshop maps (prior to working out Private Matches!). Below is a list of maps I recommend:
The images below contain a list of the maps I currently have in my Rocket League.
Step 2 : Download Workshop Map additional textures.
The Workshop Maps require some additional textures to really flesh out the content. These are downloaded as a ZIP file and placed into a Rocket League install folder on your computer.
Browse to https://rocketleaguemods.com/mods/workshop-textures/ and download the ZIP file. You'll need an account at Rocket League Mods to download the file.
Using Windows File Explorer, open the zip file and Copy them all.
Now browse to the Steam/Rocket League folder where they need to go – on my computer it's located at C:\Program Files (x86)\Steam\steamapps\common\rocketleague\TAGame\CookedPCConsole – your mileage may vary …
Paste the files into this folder.
Note : The additional texture files are contained in the Single Download (details at the top).
Step 3 : Download Rocket Launcher
Rocket Launcher gives you the ability to swap any of the Custom Maps for the inbuilt "Underpass" map. It also allows you to specify a Direct IP address for private multiplayer matches (and quite a few more things as well).
Browse to https://rocketleaguemods.com/mods/rocket-launcher/ and download Rocket Launcher. You should already have an account from the previous step.
The file downloads as a Zip. Unzip the contents into a folder on your computer (desktop, where-ever). This contains an
Executable called "Rocket Launcher.exe" – this does not require an install on your computer and doesn't place any system files into your directories. When it's not actually running it doesn't affect your system, which is nice.
I suggest running Rocker Launcher, the right clicking on the icon on your taskbar and choosing Pin to Taskbar for convenience. Do this for Hamachi (below) as well.
To enable network play – you need do download and install WinPcap (only do this once) which can be gotten from Rocket Launcher through the Direct IP tab / Download WinPcap button – or here.
Note : Rocket Launcher and WinPcap is contained in the Single Download (details at the top).
Step 4 : Download Hamachi
Hamachi is used to create your own Virtual Private Network (VPN) into which the other Rocket League players will come into for your Private Lobby.
Download Hamachi from
https://help.logmein.com/articles/en_US/Downloads/LogMeIn-Hamachi-Windows-sfdwn0105
Install Hamachi
Run Hamachi
Click Power On to get Hamachi started. You will need a LogMeIn account to use Hamachi – create this through the app.
Once logged in – if you wish to Host private multiplayer matches, you will need to Create a new network. Otherwise to join someone else's hosted game – Join an existing network.
Note : Hamachi is contained in the Single Download (details at the top).
Step 5A : Create a Hamachi Network (optional)
If you want to host a Rocket League private match – you do this by using Hamachi to create a local VPN for others to join. Note you only have to create the network once – after that you just turn it on and provide the details to your friends.
Run Hamachi
Click Create a new network.
Create a Network Name and Password.
Create the network
This network is powered on/off by Hamachi (a) running and (b) the "Power" button turned on (green).
Step 5B : Join a Hamachi Network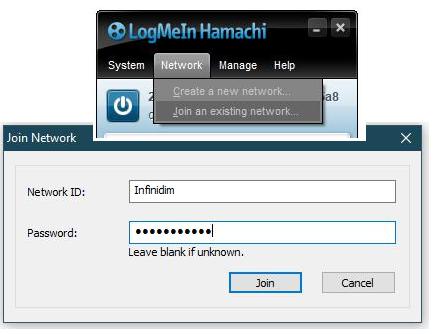 To play Rocket League multiplayer private matches – you need to join a VPN that's hosting the game.
Run Hamachi
Power it on (green button)
Choose Network … Join an existing network.
You will need the Network Name and Password from the Host
And … you're in.
Step 6 : Specify an IP address in Rocket Launcher
You need to set the IP address in Rocket Launcher. You get this from the Host – it's displayed next to the Power button in Hamachi. the IP4 address is four 3-digit numbers, separated by a period (.) – such as 123.456.789.123 – note that if you are the Host you can right click on this area of Hamachi and choose Copy IPv4 address.
Anyway – this IP address needs to be typed/pasted into the IP Address box in the Direct IP tab of Rocket Launcher.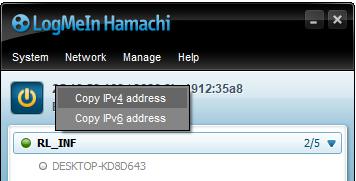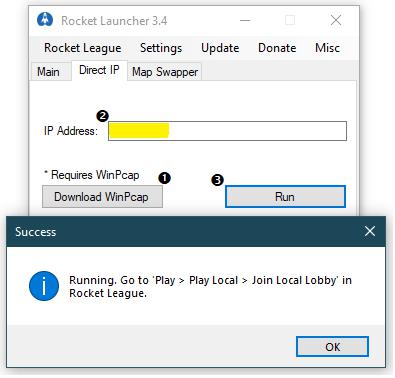 Step 7 : Swap the Map
One of the features of Rocket Launcher is to allow you to swap any of the Workshop Maps for the "Underpass" map. Thus when launching a Private match in Rocket League – if you choose Underpass – instead you'll get the one you swapped using Rocket Launcher.
Rocket Launcher should already be open (assuming you specified an IP address in Step 6)
Click the Map Swapper tab
Rocket League needs to be running at this point
Click Refresh – now the listbox will be filled with your list of custom maps.
Choose one and click Swap. – you'll get a message telling you the swap is done. Now you're ready to play your selected map by choosing Underpass as the map in Rocket League.
Note that you can ALT-TAB back and forth from Rocket League to Rocket Launcher to swap the maps around.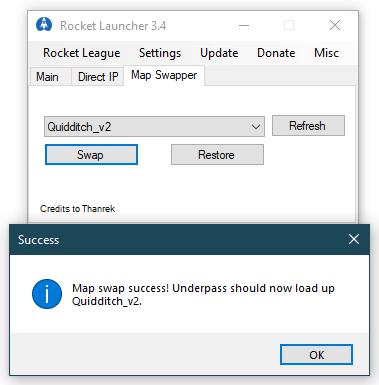 Step 8 : Into Rocket League
Use the Local Lobby feature in Rocket League to create a Host Server. Hamachi will contain this on your VPN and since your friends have your IP address and Rocket Launcher with your IP – they will be able to see and join your lobby.
Play … Play Local … Host Local Lobby …
Specify the Map as UNDERPASS
Away you go.