In February 2009 I was part of the team that picked up Virgin Australia's (then V Australia) first Boeing 777-300ER. Having arrived into the airline in June 2008, it had been a long 7 months – very long – but now we were about to get an aeroplane – and fly it. For the benefit of those in the team that couldn't come along (and we took a lot of them with us!) – I blogged the journey on our internal website all those years ago. Ten years later – to the day – these are those blogs.
---
This is part twelve of the V Australia Boeing 777 Delivery Flight series. We pick up the day before delivering V Australia's first Boeing 777 to Australia.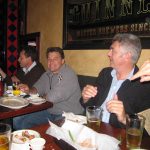 After the kerfuffle yesterday, last night I had a quiet meal with Dave, Paul, Kev, Andy, Marto and our CASA friends Clive and Paul. After that, I headed back to the Hotel, ran through the urgent mail, uploaded the last three days of blog entries, and hit the sack. I think it was about 1 am that I went head down, and I'd had it – the last week has been full on. I left my mobile on but didn't set an alarm, figuring a sleep til lunch time would do me good.
At 3:30pm I rolled out of bed and looked at the laptop and mobile (which I had slept through). Tonight has turned from a PR event towards a Simulator LOE challenge. One thing I didn't mention yesterday was that we dispatched out of Boeing BFI with a centre tank fuel pump U/S. Yes, the plane actually is brand new, they didn't swap us a repainted one at the last minute. I think.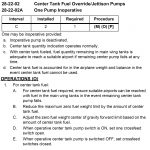 Those of you with access to the MEL will know that LAX-SYD with only one centre tank pump inoperative is a vastly different exercise from yesterday's little hop. We had all hoped the pump would be fixed and all efforts (including cannibalising another aircraft) have been made – so far to no avail. I should stop at this point and thank the engineering team who I know have been flat out trying to fix it since we left the aircraft yesterday for the comfort of the hotel.
An additional complication at the moment is the lack of SATCOM on the aircraft. Essentially we could not get any satellite communications to work yesterday, despite our best efforts. Should this reamain – we'll be using HF (High Frequency Radio) to communicate with ATC and the Company across the Pacific – much like the WW2 bombers you see in the movies (same technology). This problem has also had all sorts of resources thrown at it last night, so far to no avail. Although the SATCOM has worked over the past week, it did not for yesterdays flight. Loss of SATCOM takes out the FANS/CPDLC capability of the aircraft (good thing we have four very experienced HF users on the aircraft – thanks to Mumbai Radio) and we've probably lost the ability to communicate through ACARS with the company as well, once we're out of VHF range. On a normal flight this becomes quite a chore. With the scenarios CASA is going to throw at us, and the information and communication that will be required to solve problems – it's going to require some ingenuity and work.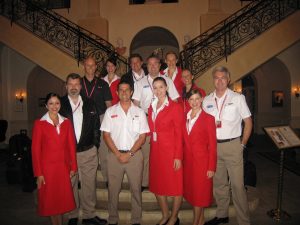 This proving flight has been an educational exercise for all concerned. Hopefully, all the nooks and crannies we're now exposing will go a long way towards making our actual launch on the 27th a far smoother affair.
Individually and in combination, these defects are acceptable for dispatch, with some fairly heavy performance restrictions that have kept Tech and Nav Services busy as well. I now have John Bennett and Phil Warth on speed dial (poor guys). I plan to tell CASA tonight to put their books away – we have a scenario that's far more interesting and unusual than any they could dream up!
The pickup has been brought back an hour, the earlier the arrival at the airport the better apparently. I've sent Meg a ticket and I'm hoping she can manage to get to Sydney to meet up with me after I escape the arrival celebrations.
Tonight and tomorrow is the payoff for all our hard work. Tomorrow we'll have an aircraft over the skies of Australia, the first of many, I'm sure. For myself, I am humbled and appreciative of the privilege to be out front of the team that takes us all in V to the next step towards line operation.
I hope to see some of you in the morning in Sydney. Thanks for all the comments of support!
---
The following is the anthology of associated posts. Note they become active (approximately) 10 years after the original events. So you can wait until they all drop to read them all in sequence – or read them as they come down. Or not!
Ken.
---
If you find my content useful and are in a position to do so – I would appreciate a contribution to my PayPal account (ken.pascoe@gmail.com) – If you use the Friends and Family feature in PayPal it reduces the charges to the transfer. Please note that when sending money in this way you are removing any form of purchase protection, which is not relevant to a contribution of this type anyway.