In February 2009 I was part of the team that picked up Virgin Australia's (then V Australia) first Boeing 777-300ER. Having arrived into the airline in June 2008, it had been a long 7 months – very long – but now we were about to get an aeroplane – and fly it. For the benefit of those in the team that couldn't come along (and we took a lot of them with us!) – I blogged the journey on our internal website all those years ago. Ten years later – to the day – these are those blogs.
---
The last post of the V Australia Boeing 777 Delivery Flight saga comes from Sydney after our first Trans Pacific LAX-SYD flight as a (proving) airline. With Passengers. Sort of.
As everyone now knows – V Australia now has its first Boeing 777-300ER on Australian soil. I'd like to say that we brought her in without a scratch, but unfortunately that may not be the case.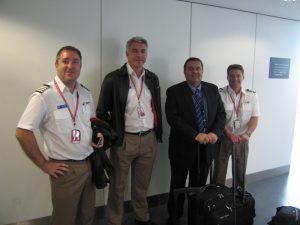 During the afternoon before the final Los Angeles to Sydney delivery flight, pickup from the hotel in LA was brought back an hour. While I caught this from Dave – unfortunately the same can't be said for several other parties, including the crew transport and flight planning. So our crew transport was thirty minutes late, and the OFP only walked through the door of the plane twenty minutes before when we had been planning to push. It's surprising how much you can't do on a flight deck to prepare for a flight when you don't have a flight plan, and how busy it gets there once you have it. Fortunately we took advantage of the time together in the hotel foyer for a few Crew snaps.
Check in and immigration were surprisingly seamless. The good news was that the center tank fuel pump was fixed. The SATCOM however was not. I had spent the afternoon exploring the impact of the lack of SATCOM, including no ACARS and the availability of Company HF and propagation tables.
It's been 9 months since I've flown the 777 in an airline environment, and just one of the aspects of line operations I'd forgotten about was the chaotic, frenetic nature of the front end of the plane between push back and thirty minutes before. Dave had been through it the day before in Seattle and now it was my turn. In both cases the pressure of the nature of the operation added several layers of complications for us. Apart from myself and Dave, we had Paul and Kevin assisting in a typically competent and unobtrusive manner – with all the resources on hand, it should have been a piece of pie. But while I now can't remember all that went on – I DO remember being quite flustered at several points.
As usual, once the doors were shut and push & start called for, things settled into the comforting routine that we know so well. A minor (fifteen minute) delay was incurred as Hallmark went off to find us a push back tug to replace the one that had been driving the aircraft all round LAX during the day, but had now decided it would no longer do so.
I was Pilot Flying in the left with Dave beside me, Kev Beard and CASA Clive behind. Paul had previously calculated that we needed to be airborne at 0850Z to meet the schedule comfortably into Sydney. Between all our efforts to go early, frustrated by some pre-departure issues and the tug – we were airborne at 0847Z. No Problemo.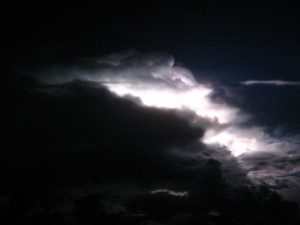 Take off was when it really came home to me that I was back in the job again and if felt great with the big girl charging down the runway at 311 tons towards a rotation speed of 174 knots (325 kph). Once in the air I couldn't resist hand flying for a few thousand feet. As we cleaned up, the weather radar showed a small green return about 8 miles ahead. I put the autopilot in and Dave and I discussed a vector round it. However it was quite small without any scalloped or unusual edges, and we watched the previous aircraft plough on through so we continued on the radar heading and left the seat belt signs on to keep the passengers and crew seated.
Just after we penetrated we entered a briefly moderate rain shower. Dave jumped on the radio to ask for a vector, when there was an almighty FLASHBANG! and we were struck by lightning. As quick as that we were out the other side and into the clear night sky. The later consensus was that the lightning strike was on the left fuselage near the L1 door somewhere, through the aircraft and out the right side. We're still waiting to hear if there is any damage at the entry/exit points on the skin.
I'm fairly sure I recall a couple of expletives at this point and I distinctly remember thinking, "Well, I should have gone around that one." I watched the autopilot for a minute or so, then asked if all was ok. About this time the Cabin Call rang, followed shortly thereafter by the Cabin Alert. However Dave and I flew the plane for a while, evaluated the EICAS (which was clear) and STATUS (also clear) and I just generally looked around and let things be while my heart headed back to its usual place and pace.
I handed over to Dave and took the intercom. By this stage Clair the Flight Manager and the crew had resorted to the All Call dial (since we hadn't answered yet) and the intercom was a babble of voices. We discussed the situation and explained what had happened. I asked Clair to look through the cabin for indications of electrical impact, particularly galleys, IFE, etc. I provided some reassuring words (Lord knows what) then returned to the aircraft.
We cleared transition and at 20,000 ft I handed over to Dave to do a PA. I don't remember what I said (I do remember pausing for 30 seconds to think about it, always important) but it began (after the introduction) with something like "Well this flight certainly has been one of Firsts; we've managed to achieve this aircraft's first lightning strike". I then went on to explain they were uncommon but not unexpected, etc, etc. Hah – this was only my second in 20 years of airline flying.
After top of climb Paul jumped in my seat and I went for a walk through the cabin to see how everyone was. While there were a few frayed nerves, and lots of questions, most wanted to know when the seat belt signs were coming off so they could get up and begin the festivities.
After I returned we sorted out the Crew Rest pattern. Paul was to jump in the right with me while Dave and Kev went off for a 5+ hour break, then Paul and I would rest while Dave and Kev flew. I was to come back at 30 minutes before top of descent, and Dave and I would land the plane. And that's pretty much what we did.
CASA had scenarios to run on us related to an EDTO dispatch with DDL items, and subsequent failures. By the end, Paul and I had an aircraft with one fuel jettison valve inoperative, no APU, Left Backup Generator Failed, the EDTO enroute alternate had gone down and we were cruising 4000 feet below CFP with one engine operating at reduced thrust because of GE (General Electric home base flight watch) ACARS detected vibration. Eventually I think I preferred the lightning strike. We ended up (theoretically) in Honolulu. For Paul and I that was the end of it – when Dave and Kev came back, the aircraft lost the damaged engine on the way to Honolulu and completed a single engine landing there. End of exercise.
The lack of SATCOM was not particularly onerous, just inconvenient. It seems that San Francisco ATC owns most of the Pacific anyway and we had them on HF without difficulty. Contacting Virgin Blue Ops Brisbane on the HF was an entirely different story. Somehow it had escaped everyone's appreciation that while the aircraft had SELCAL receive (ATC could call us via HF using a bell-ringing SELCAL [selective calling] system) – the 777 did not have such a system to send a bell-ring to the Company. The Company was not actively monitoring HF the whole time – they were waiting for us to SELCAL them, which we could not do. So we're trying to get ATC to call the company for us to manage these theoretical scanerios, even as I'm combing through my PDA for frequencies for Stockholm/Portishead Radio for a phone patch. All in good fun.
I came back early from rest to find that we'd lost about 10 minutes on the original estimates, which gave us an FMC ETA of 9:50 Local. Brett Godfrey had previously communicated the importance of the arrival time (VIPs waiting) so I went back to discuss it with him and Scott Swift.
As long as we could be over the fence as close to 10:00, they were happy. Based on this, Dave and I figured we would have time to descend early to 1500 ft, cruise across the Heads, then swing over to the Harbour and Bridge, then truck on down for a reversal back to 16R.
ATC and Sydney's weather had other plans.
The cloud base in Sydney was generally 700 ft with significant lower cloud at 500ft. A harbour manoeuvre was out of the question. Additionally they put is in the hold at Shark and gave us a landing time of 10:14. Despite out best efforts of cajolement with ATC, back door attempts through our company handler Toll Dnata and Virgin Blue Domestic Ops (who we confused the hell out of : "V-OZ what? We only handle the Domestic Side… you'll be parking at International… call them.")
So after the usual multiple step descents and vectoring, with the assistance of Dave and Paul I was finally descending nicely through about 900 feet on the ILS when we broke clear of cloud. I remember a VB 737 being cleared into position on the runway at this point, and as I was making a mental note of how close we might be, the VB pilot came back to ATC and said "Ma'am, if it's okay we'd like to remain here and watch the Triple Seven land." The female ATC Tower Controller came straight back and said "No problem – delays we can do." Someone with a sense of occasion and someone with a sense of humour… fabulous.
The wind was 20 kts or so down the runway-ish and the viz below cloud pretty good. As soon as I was confident of the runway (799 feet) I disconnected and we continued down manually. The landing was a good one, I think… not a greaser, but in the right place. As we trundled down the runway towards the high speed we saw the cameras left and right, and a chopper overhead taking photos and video. Taxi and parking was cool as we passed by two Qantas aircraft being held for us.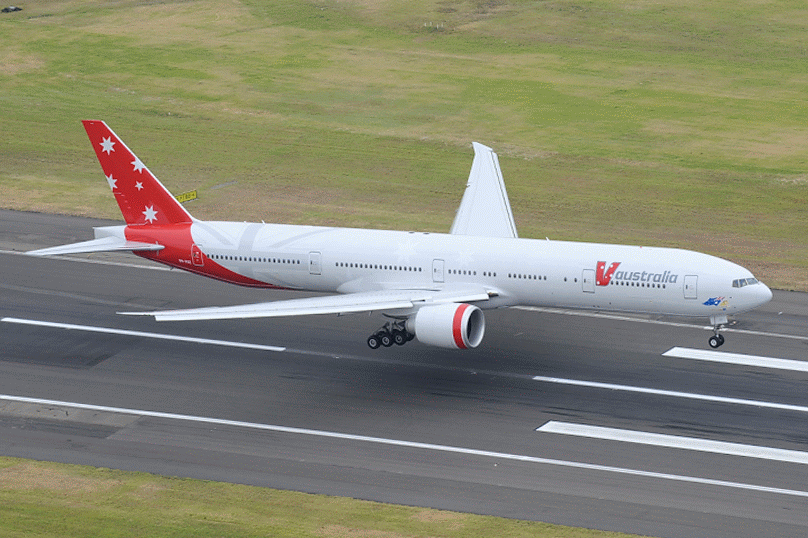 As we rolled to a stop and set the parking brake, once the engines were off Dave and I rolled down our windows and got out the Australian Flags. We waved them madly at the V Staff in the aerobridge which to my delight included Phil Warth. At this point the ground engineer called the flight deck. "Yes Ground" I said. "This is your AQIS inspector ? CLOSE THOSE WINDOWS." Oops. It appears I may have contaminated the country by opening the window prior to spraying. Don't tell anyone.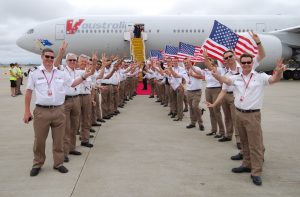 It took about 90 minutes to get to the VB lounge at domestic, and on the way I met up with Meg who had flown up that morning to be there. I managed to finagle Meg a pass into the lounge event and, unfortunately, we arrived just as the speeches had ended. Damn.
I bumped into one of the PR reps and asked what was happening next. She said they were about to start bussing people out to the aircraft for tours. I asked if she wanted a pilot in the flight deck for the tours, and she said yes… so off I went on the first bus. On arrival at the aircraft there were dozens of pilots – mostly Cruise FO's – lined up as an honour guard for people coming to tour the aircraft, waving American flags. It was very moving for me to walk down that line of all of you, shaking hands and recognising familiar face after familiar face. Everyone, we've done it, the plane is here.
Like in LAX I saw dozens and dozens of individuals who were delighted to find open (supervised) access to the flight deck, and a willing photographer to take a picture of them at the controls of a 777-300ER.
About half way through this Meg cam onboard and sat in the 2nd jump seat for a while. About two thirds of the way through we began to encounter mostly staff, then the pilots and cabin crew who have volunteered for escort duty that day. You'll see lots of photos of our pilots sitting in the left seat in the pictures I took; these were just those who didn't have cameras.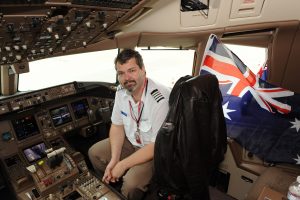 Eventually we ran out of visitors and left the aircraft in time to catch the last bus. Meg and I headed back to the lounge to collect our things, have a bite to eat and wait for the next Melbourne flight. It was 3:30pm. In the lounge I caught up with my crew for a chat, and bumped into many of the flight deck visitors I'd seen earlier that day.
All in all, it's been an experience I will never forget. The first aircraft is the culmination of a lot of work from all of us, and hopefully the beginning of something much, much bigger.
---
The following is the anthology of associated posts. Note they become active (approximately) 10 years after the original events. So you can wait until they all drop to read them all in sequence – or read them as they come down. Or not!
Ken.
---
If you find my content useful and are in a position to do so – I would appreciate a contribution to my PayPal account (ken.pascoe@gmail.com) – If you use the Friends and Family feature in PayPal it reduces the charges to the transfer. Please note that when sending money in this way you are removing any form of purchase protection, which is not relevant to a contribution of this type anyway.