In February 2009 I was part of the team that picked up Virgin Australia's (then V Australia) first Boeing 777-300ER. Having arrived into the airline in June 2008, it had been a long 7 months – very long – but now we were about to get an aeroplane – and fly it. For the benefit of those in the team that couldn't come along (and we took a lot of them with us!) – I blogged the journey on our internal website all those years ago. Ten years later – to the day – these are those blogs.
---
Where has the Day Gone?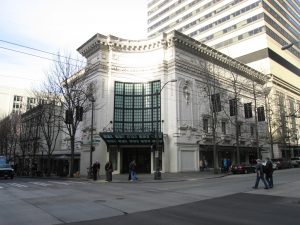 After 12 hours of restless sleep, this morning I started on the e-mails that gathered in my inbox over the last couple of days. I'd been dealing with the easy ones along the journey and pushing down the inbox those requiring some effort. Many of you will be aware of the issues going on with the examinations on Virginetics – especially the CAR214 course material and exam (don't get me started!). I looked up at one point and it was 2pm – missed brekky and lunch. Time for a walk.
The weather here in Seattle has been nowhere near as cold as I'd been led to expect. However, 10° is an excellent opportunity to wear my new coat. Things are quiet here – lots of sales in the shops, not many shoppers.
There are some interesting buildings, and I listened to a father explain to his daughter about the thousands of names on a WW2 remembrance area in the centre of the city.
When I arrived back from my walk, I ran into Dave Kienzle who'd arrived into Seattle this morning. Dave flew into LAX a few days ago and caught up with Andy Grierson, who is over here for the delivery flight of Aircraft Two. They'd driven around LA for a couple of days, including a bike ride along Venice Beach. Dave had scored an upgrade on the AirNZ flight (!) and found the Alaska Air LAX-SEA flight mostly empty.
As we spoke – the V party arrived at the hotel, those coming with us on the flights BFI-LAX-SYD – Competition Winners and Crew, along with Scott Swift and others.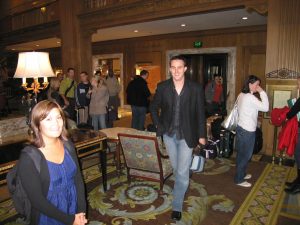 Our delivery flight from LAX to SYD (and the Boeing Field to LAX flight) will be a proving flight for our AOC with CASA, and for that, we'll need guinea pigs … er … Passengers. So a competition was held and a hundred or so V Staff have been flown over to party here in Seattle for the launch, then serve as Passengers for us to experiment on during the LAX-SYD proving flight.
While it was a long flight SYD-SFO-SEA for them, apparently the flight was quite empty on United and most got several seats, in some cases an entire row, to sleep in. Tonight we're heading for dinner at Seattle's Crab Pot Restaurant, something of a landmark around here.
Apparently, it's not all parties though. Today I found out that Friday night in LAX after we arrive, CASA is presenting us with a Pre-EDTO dispatch exercise, designed to test us on all aspects of EDTO dispatch, from the Flight Plan, to the walk around and several DDG exercises that will require liaison with JMCC (Maintenance Control). Something to look forward to!
Next, I'll come back with some pics from the evening with the crew at the Crab Pot, a renown restaurant here in Seattle that Boeing is taking us to for dinner.
---
The following is the anthology of associated posts. Note they become active (approximately) 10 years after the original events. So you can wait until they all drop to read them all in sequence – or read them as they come down. Or not!
Ken.
---
If you find my content useful and are in a position to do so – I would appreciate a contribution to my PayPal account (ken.pascoe@gmail.com) – If you use the Friends and Family feature in PayPal it reduces the charges to the transfer. Please note that when sending money in this way you are removing any form of purchase protection, which is not relevant to a contribution of this type anyway.