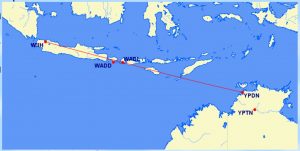 So finally at 17:37 Local, we touched down in Darwin on the latest, and hopefully second last day of our journey. Still to achieve is the last segment down through Alice (for fuel) and onto Bankstown, where the aircraft will enter the Hanger for some radio upgrades as well as to address the snags we've identified along the way (and perhaps even fit a serviceable HF). Meanwhile we are staying in the Mercure Hotel Darwin, the only hotel in Darwin approved for Quarantine-ing / Self-Isolating crew. We can't leave our rooms, everything is dropped off outside the front door. As for the Hotel … we're almost missing the Dhaka Airport Motor Inn. Almost.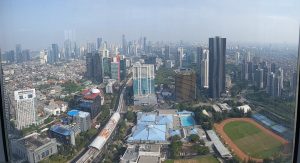 After three weeks of being extremely circumspect in our interactions and activities across multiple COVID hotspot countries, washing and sanitising, maintaining social distance, culminating in a negative COVID test – now the coin has flipped and we are contained lest we be a threat to the COVID free outside. It's a weird, weird world.
This morning I was greeted with a magnificent view of Jakarta from my room on the 60th floor of the Westin Hotel in Jakarta. I slummed it down on the 51st floor for breakfast, again drinking in the view and surroundings, before heading to checkout. We here met by our handling agent who also dropped us off at the hotel yesterday. Thanks Mr. Irvan.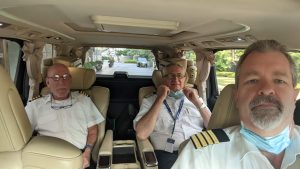 Yesterday's southerly route from Dhaka to Jakarta turned Eastward again as we track out of Jakarta Halim along the Indonesian archipelago of volcanoes (the "Ring of Fire").
We jumped into the transport and headed off for the 30 minute (very much against the traffic) ride to the airport. Immigration in and out of Jakarta is perhaps the most official and complex of our journey, but like everywhere else today we were escorted by a highly skilled, fast talking agent who negotiated for us when required with the various bureaucratic hurdles.
Irvan was another master negotiator and got us (and even Ronnie) through.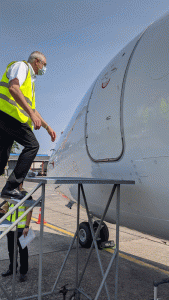 As always, getting the aircraft going was a combined effort with Jacques volunteering today to take one for the team and brave the guard-rail-less platform to get the door open.
Over the past few days of flying the access to the main door has been a haphazard array of steps that are too tall or too short, ladders that need to be held (by people who would not have survived my landing if I came off the side) as you climb up and down, ramps that normally trawl luggage up to the rear cargo hold of a 737 but form a shallow and yet deadly slippery when wet ramp to the aircraft. In my short time on this aircraft, I've noticed that when you take it somewhere it doesn't usually go it attracts one anachronism after another.
Now the catering from Jakarta … that was something else. I previously mentioned that at times the catering has not been appropriate to the aircraft (meals to heat – no galley); a little heavy on chocolate and toilet paper (there's a link there …) but otherwise adequate. Well – Jakarta reversed that process – with enough sandwiches, fruit, etc to do the entire journey from Cologne.
Mystery-Meat sandwiches, individually wrapped with the crusts cut off. It doesn't get any better than that.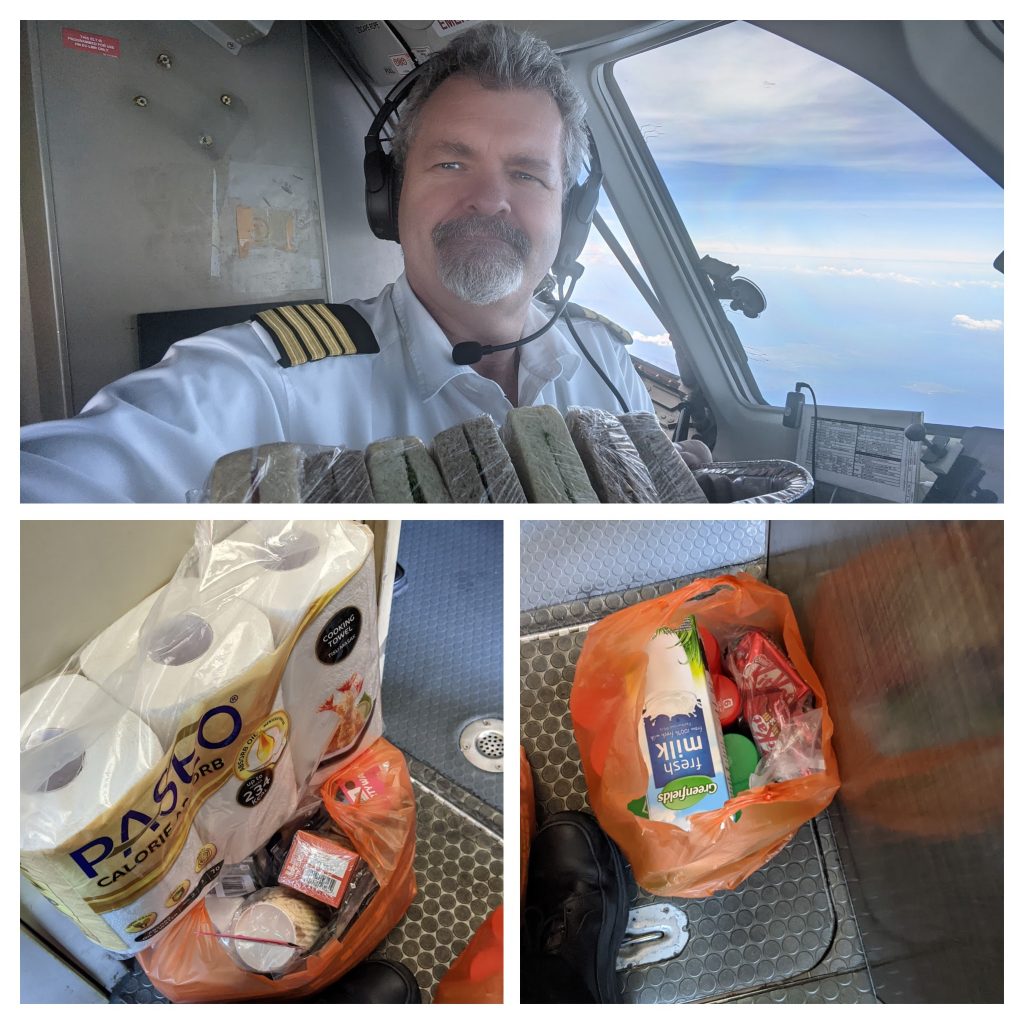 The route along Indonesia gave us a sterling view of several dormant Volcanoes, and a few not so dormant thunderstorms.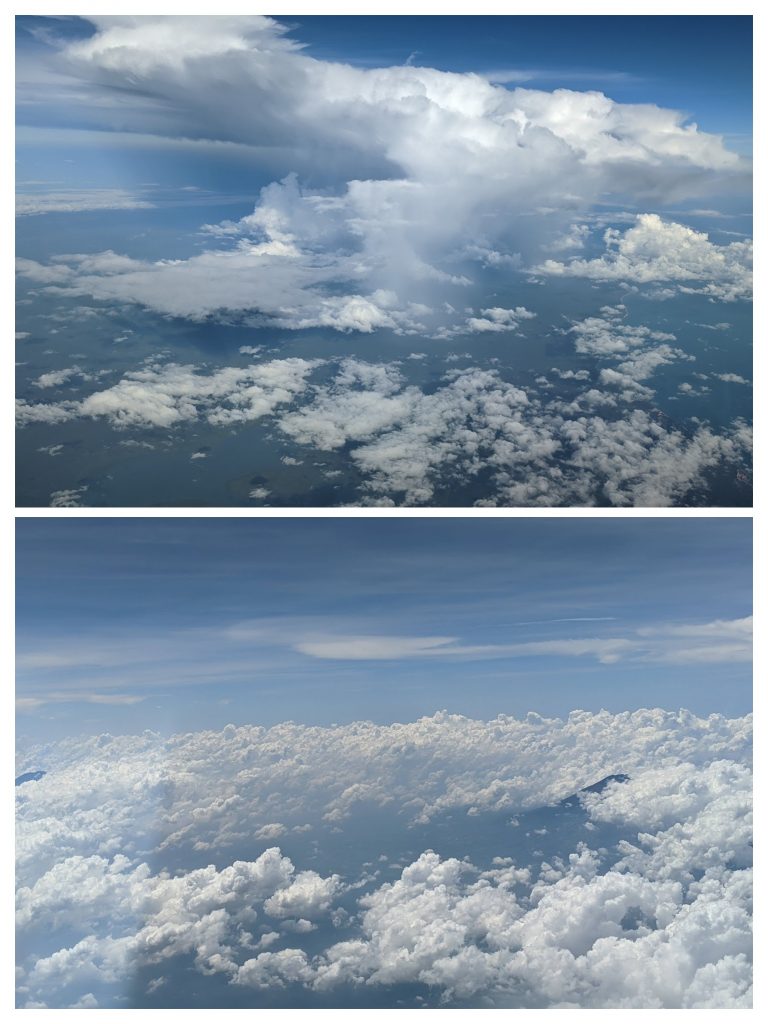 I've never been to Lombok. To be honest I'm not sure I can say that now – having landed there, parked, prepped for the next sector, start/taxi/takeoff – all without getting off the plane. We are doing these turns in just under an hour and there's not a lot of time, especially when there are coms to do in relation to overall journey progress with home base.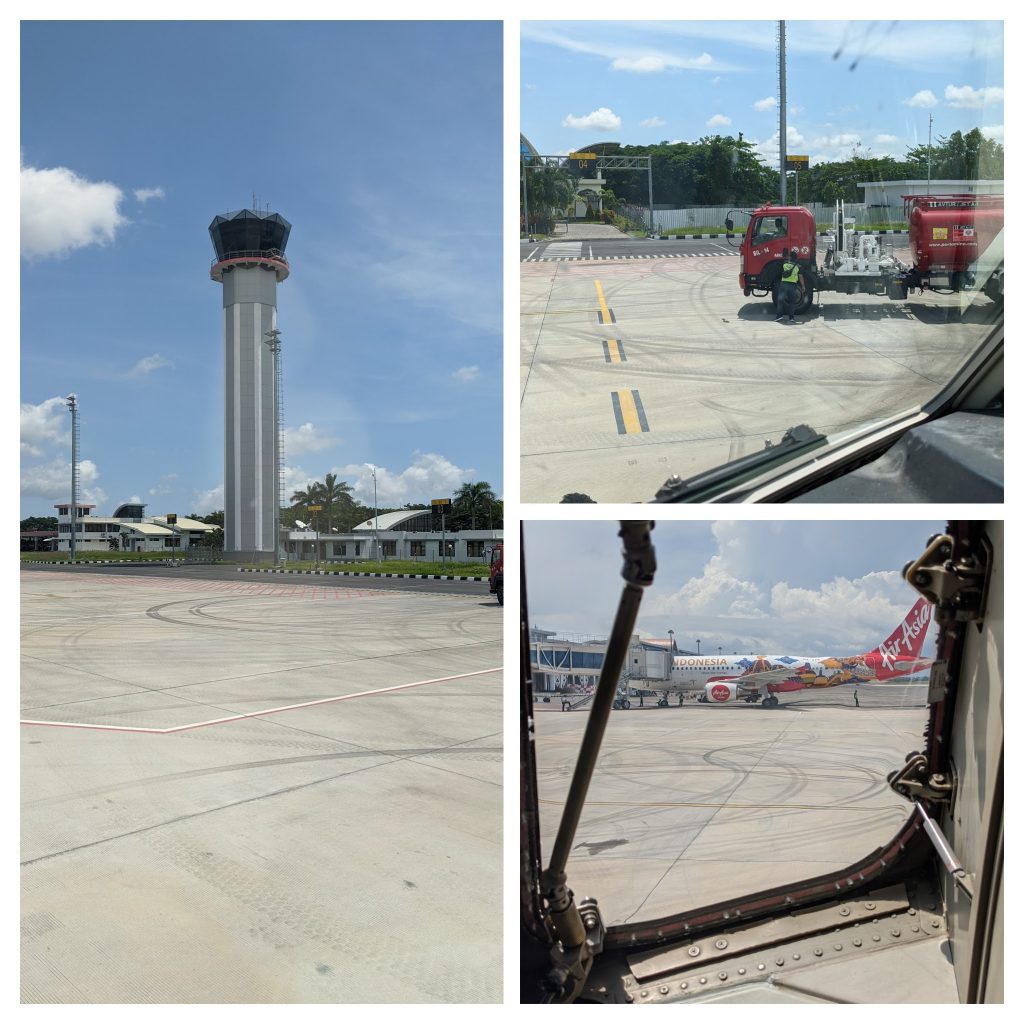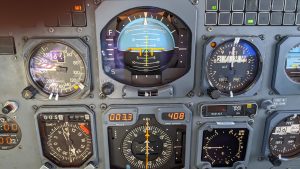 The sector to Darwin was also pretty cruisey. The speed is M.68 (68% of the speed of sound), averaging 400 knots or 740 kph. Still the days are long and we are fighting both our body clocks and the progressive time zone changes. Along the way Jacques and I have been debating the various procedures and techniques in the Standard Operating Procedures of the airlines and airliners we have worked for and flown, and how we could integrate the best of these into the BAe146. It's been an interesting debate.
And now to the red carpet in Darwin.
Darwin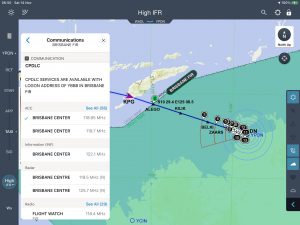 While we had some coms issues contacting Darwin – when you hit the FIR boundary without HF, the Jepp app gives you 56 separate VHF communications frequencies to try. What it doesn't tell you is which one is in use in that sector. After I fruitlessly worked through all the available VHF frequencies, Jacques managed to find the correct one and we eventually got through to Brisbane enroute (yes, most of northern Australia is managed by Brisbane ATC), and were cleared directly to the commencement of the approach in Darwin.
The STAR, Approach and Landing were uneventful. After landing we were directed to the handling agent parking area and I again demonstrated by exceptional 777 aircraft taxi skills, and how they don't quite translate across to the much smaller and sitting-on-top-of-the nosewheel BAe146.
Once again we had to get the tow bar out to push the aircraft out of the way. In truth, owing to some "negotiation" taking place between the NT and NSW Health Departments, we are uncertain when we will be able to proceed further south. It would seem the experiment of Federation is still learning to deal cohesively with COVID.
But it's good to be (almost) home.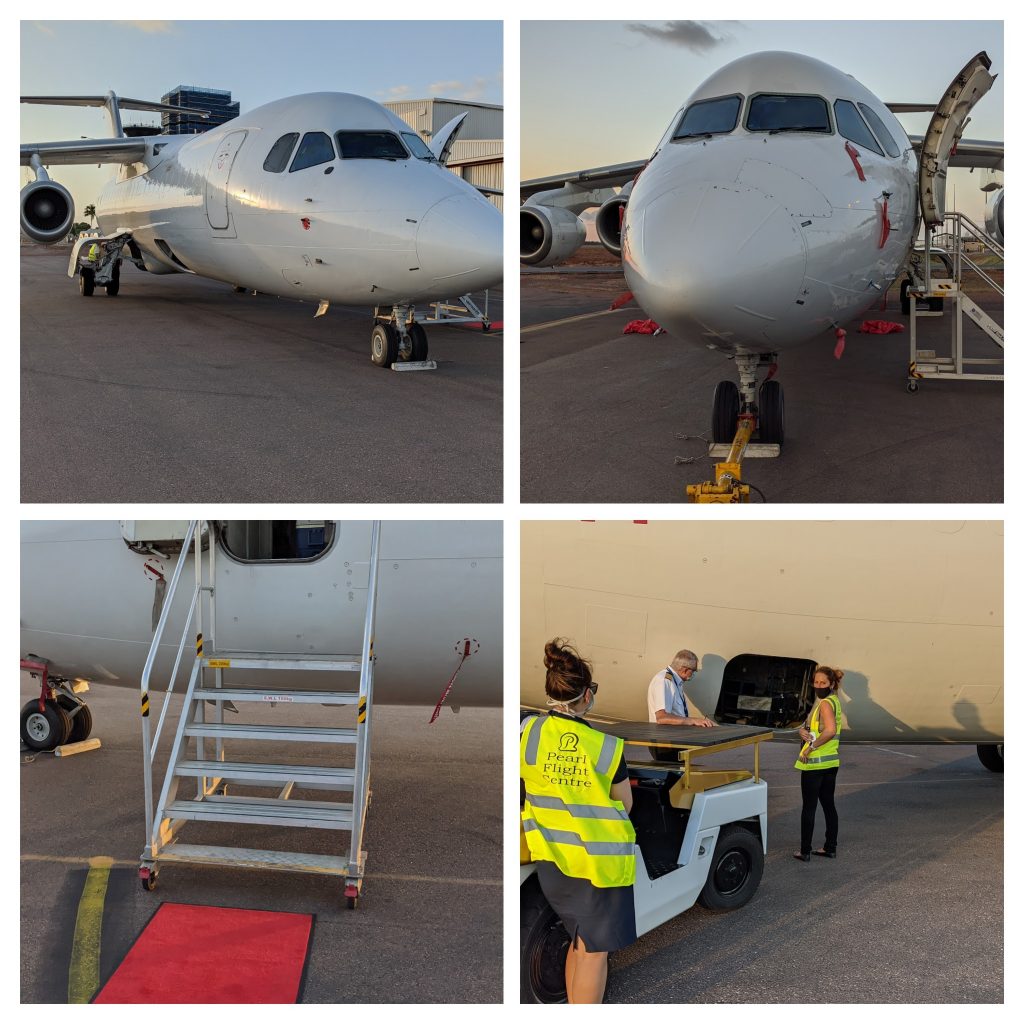 ---
If you find my content useful and are in a position to do so – I would appreciate a contribution to my PayPal account (ken.pascoe@gmail.com) – If you use the Friends and Family feature in PayPal it reduces the charges to the transfer. Please note that when sending money in this way you are removing any form of purchase protection, which is not relevant to a contribution of this type anyway.
Regards, Ken Pascoe