With my BAE146 Type Rating and Induction SEP (Safety and Emergency Procedures) and NTS (Non Technical Skills, or Crew Resource Management) training complete – it was time to fly the actual aircraft.
Somewhat unusually in this case it requires heading across to Cologne, Germany to ferry back a newly purchase and refurbished aircraft to Australia. Fortunately I am accompanied by a very experienced Check and Training Captain who has a lot of time in both the BAe146 and International Operations.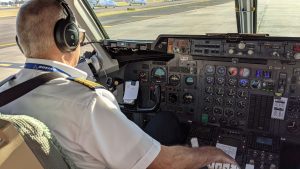 I was fortunate enough during my week in Sydney to sit Jump Seat (trust me that juxtaposition of "fortunate" and "jump seat" aren't often used in combination, at least not from a comfort point of view) for a ferry of one of the BAe146 aircraft from Sydney's Kingsford Smith International Airport to Bankstown – some 19 km away, or about 6 minutes flying time as it turned out. This at least gave me a quick peek of what I was in for once I stepped into the flight deck operating seat in Cologne.
What did I learn? I learned that 6 minutes is not a lot of time to get everything done that needs to be done between takeoff and landing in a BAe146. It was an impressive display from our very experienced Captain and First Officer.
Heading to Germany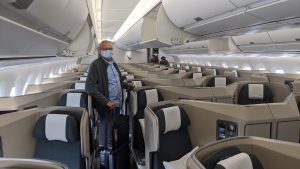 Our new aircraft is in Cologne, Germany. We're flying Cathay Pacific through Hong Kong to Frankfurt, then ground transport to Cologne. This would be an adventure by any other name in normal times – under COVID it becomes quite something else. Airlines regularly flying routes have established processes for negotiating safe passage through the various airspaces, refuelling transits through various airports, and admission into the country for crew night stops. When you are doing something day after day – it all works pretty well. But when you're doing a once off trip like this – that's a different matter. For that reason a 3rd party company FlightWorx has been engaged to take care of the planning and logistics of the exercise with oversight of our technical consultant.
Now add COVID to that mix and you have crew travelling from a supposed COVID hotspot (Victoria) to somewhere that makes that term simply laughable (Europe) and then get them to Transit (land/refuel/takeoff) and Night Stop at half a dozen countries between – now we're really rolling around in red tape. All that is after getting approval from the Australian Government to leave (and return).
Once There …
Since the aircraft has undergone heavy maintenance, we will be conducting a test flight of the aircraft and all it's systems (or at least as many as I can flick switches, knobs and controls on) during our second day (Monday) in Cologne before departing the following day for Australia.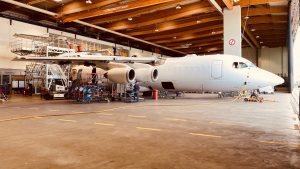 We have flight test cards based on manufacturer procedures and developed by our technical consultant to complete during this exercise which can often involve testing systems that normally don't get tested. While at Emirates I flew as First Officer on Airworthiness certification flights on the 777. Since these exercises included tasks normally confined to the Simulator (such as Rejected Takeoff, shutting down Engines, Depressurising the aircraft) – we would typically conduct a practice Simulator exercise the day before. They were always interesting, with just enough adrenaline to truly make them memorable.
The Odyssey
With the test flight out the way, we'll set off from Germany. Myself (Captain); Jacques (the actual Captain!); our engineer Ron – and our Life-Raft for three. Our route is planned as follows: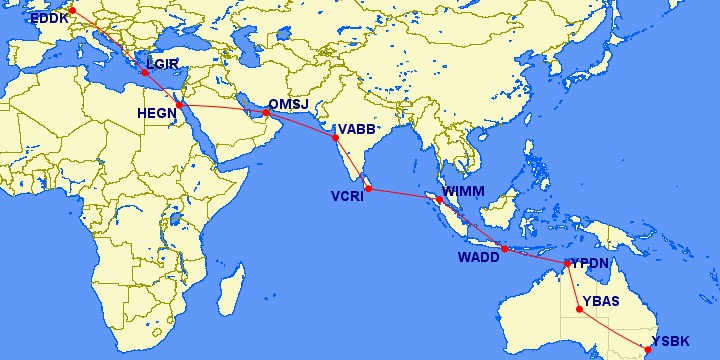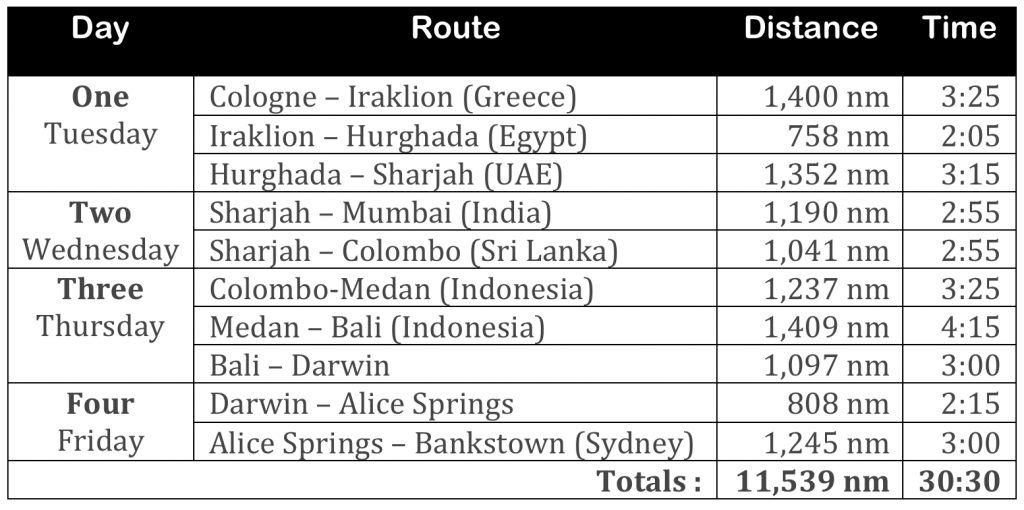 It's an ambitious schedule with some pretty big days. We'll be setting off as early as we can each day to try and make it an entirely daylight schedule. Hard to guess the odds, but there's at least a decent chance that something will go wrong somewhere and we might have an extra night stop, or delays refuelling/transitting or other problems that crop up when you undertake a whirlwind tour of this side of the planet like this one. We'll take it as it comes and plan/react accordingly.
Stay tuned to find out what happens.